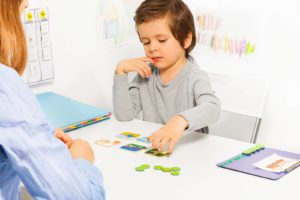 Applied Behavioral Analysis – or ABA – has been proven to be very effective in the treatment of Autism Spectrum Disorder (ASD). What has been less certain is whether it works best in a home environment or in a dedicated treatment center. A study by the Association for Behavioural Analysis International (ABAI) appears to have answered the question fairly definitively.
It is likely that most parents of children with autism have found themselves pondering the home vs. center option when planning their child's ABA therapy. The ABAI's study simplifies the question enormously, with the balance tipping very much in favour of treatment centers. The reasoning and findings are as follows:
It was found that children who received treatment in a center, such as Dream Big Children's Center, made significantly higher gains than those treated in their homes. The study identified a number of factors affecting the quality of treatment – and children's responses to it – across locations. These include distractors, amount and quality of supervision and opportunities for socialization, and generalization.
Yielding better overall results in the study, center-based treatment correspondingly offered more favourable conditions in terms of all these variables. Firstly, since the centre is dedicated to treatment, there are fewer distractors to interfere with children's learning. The child's own environment on the other hand, tends to be full of such distractors. Secondly, given the centre's built-to-purpose nature, the higher amount and better quality of treatment available in these locations makes sense as well. Thirdly, being public spaces in which children are surrounded by other learners, as well as adult therapists, who are often unfamiliar to them, centers offer far more opportunities for socialization and generalization. The latter factor is a key one in addressing ASD-related behaviours.
While it has been argued that home-based treatment would increase parent participation, thus aiding the success of the therapy, this appears to have little basis in fact. Location does not seem to be a significant factor in parents' participation. Caregivers are just as likely to take a more or less active role, whether the treatment takes place at home or in a center. What's more, a treatment center offers access to more trained therapists, as well as other parents dealing with the same situations. This provides an excellent support network.
Contact Dream Big Children's Center to discuss your child's treatment and how to make it as effective as possible.