Daily playtime is a vital part of the healthy psychosocial development of all children. Autism spectrum disorder (ASD), however, markedly affects how your child plays and socially interacts. So, as a concerned parent, how can you best help your autistic child?
What Is Play? 
Not only is "play" the universal language of childhood, it is also a learning process, which teaches your child to:
Interact,
Relate to peers, and
Establish friendships.
Playing also helps him/her to develop skills vital to the success he/she will achieve in adulthood, such as:
Gross and fine motor skills,
Language and communication skills,
Thinking and problem-solving skills, and
Social skills.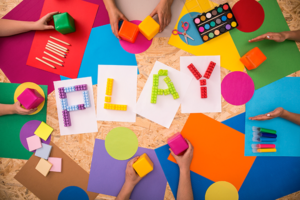 Why Teach Children With Autism To Play?
Play is an important part of language and social development, which are vital for your child's social success. While a child with ASD typically likes playing, he/she usually does so in a highly solitary manner, often with only a few toys or in a repetitive way. This lack of play skills can contribute to social isolation. Teaching children with ASD how to play, allows him/her to:
Connect feelings and thoughts with events,
Express emotions (develop cause and effect thinking for emotions),
Learn to see things from another person's point of view, and
Learn negotiation, collaboration, and cooperation.
Does It Matter? 
Daily play and social activities in childhood significantly influence the child's wellbeing. Because a child with ASD has trouble with social interaction and communication, his/her likelihood of loneliness is increased and opportunities for social interactions are decreased. The good news is that a board-certified behavioral analyst can design an applied behavioral analysis therapy (ABA) program to help children with autism to learn a variety of functional skills.
Why Dream Big? 
Dream Big Children's Center is a unique indoor play center in Monrovia, California. We offer individualized ABA therapy sessions designed for your child by a board-certified behavioral therapist, in a positive learning environment, allowing your child a unique opportunity to play in a fun-filled, yet motivational setting. If you are passionate about your child's development, contact us now for more information on the autism services provided by us.