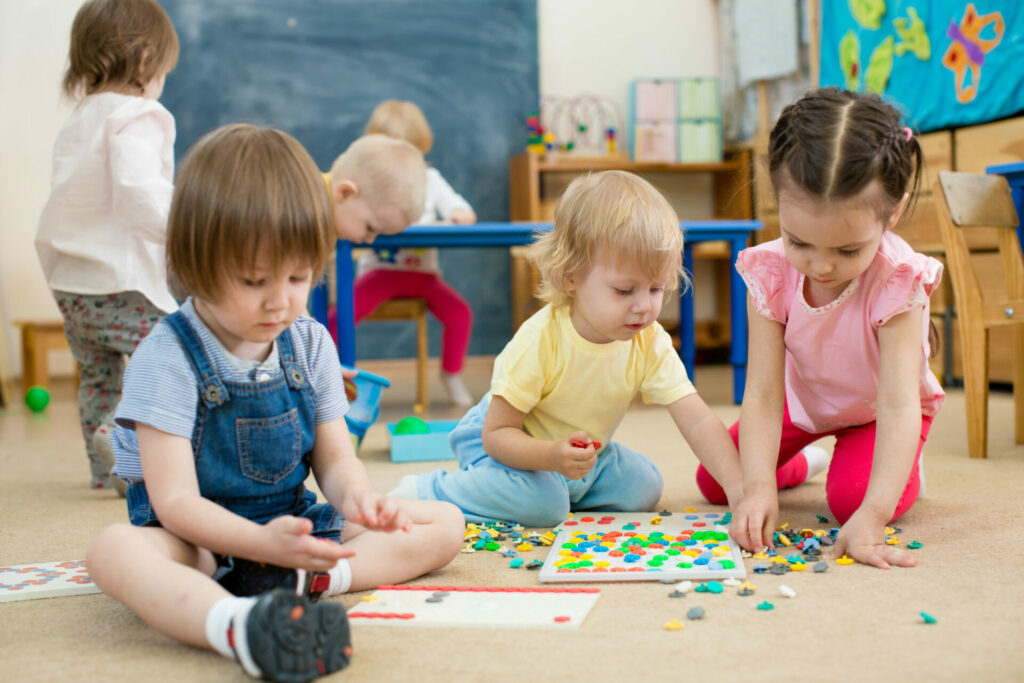 Early childhood development is critical in cognitive and social growth, according to UNICEF. Over 250 million children lack early learning opportunities. This leads to physical and mental growth issues.
Children with autism face unique challenges in early childhood. Two-thirds will experience bullying, according to AutismSpeaks. And 30-61% are affected by ADHD as well.
Although these statistics are a bit discouraging, we'd love to offer you some hope! Dream Big Children's Center has early childhood learning opportunities available for your child!
Integrated playgroups offer education and growth through fun and colorful play opportunities for children with autism. Here are the 8 top benefits of playgroups for kids with autism.
Integrated Toddler Playgroups
Dr. Pamela J. Wolfberg developed this playgroup model in the 1990s. Playgroups are small and made up of children with different abilities and backgrounds.
Children with autism learn through free play with peers. Free-play is closely supervised but not directly structured.
These playgroups create a fun and safe environment for learning new skills. Like other early intervention strategies, it has many advantages for your child.
Benefits of Playgroups for Kids with Autism
Research studies have found benefits in integrated playgroups. The National Institute of Health measured significant improvements in their research.
Playgroups can help your child develop learning, language, and social skills. In follow-up research, positive outcomes remained even after the children entered grade school.
1. Communication Skills
Autism can affect how people process social cues and conversations. Statistics estimate 40 percent of people with autism are nonverbal.
Play encourages communication skill development in all young children. Two out of three children in integrated playgroups had significant language progress in one research study. This included both verbal and non-verbal communication.
2. Social Skills
Play also helps children learn social skills through cooperation, empathy, and problem-solving. Integrated playgroups encourage children with autism to learn through rewarding peer interactions, like sharing and turn-taking.
Social settings can be overwhelming for people with autism. Early childhood playgroups can help your child develop social cue processing early. Later social interactions will be less of an overload.
3. Flexible Playtime
Playtime is a crucial learning pathway. Children with autism can develop fixed play habits. These hinder spontaneous and symbolic play development.
However, research shows they still have the same desire and capacity for peer-to-peer play as other children.
Playgroups encourage your child to use imaginary and interactive play. They'll create shared meaning with peers that aid in learning developments for shared social and cultural meanings.
4. Emotional Connection
People with autism have the same range of emotional connections as anyone. But they may have difficulty expressing emotional sympathy/empathy or responding to emotional expressions from other people.
In playgroups, children learn to form and express emotional connections through cooperation and friendships. Playtime encourages emotional development through rewarding empathetic responses.
5. Peer Learning
Peer learning encourages children to relate to each other. Integrated playgroups help all participants, not just children with autism, learn more flexible and empathetic peer acceptance.
Peer relationships also help children develop understandings of cause-and-effects in actions and communication. They learn which behaviors result in social acceptance or rejection.
Longitudinal studies show early peer learning habits are an indicator of future success. A child that manages early relationships will have greater peer acceptance into middle childhood.
6. Academic Performance
Toddler playgroups can have positive impacts on later academic performance. Learning through play and social interactions aids in important cognitive development.
One research study noted 75 percent of integrated playgroup participants maintained an average nonverbal IQ into grade school. And 63 percent were placed in regular classrooms without the need for substantial autism support.
7. Physical Growth
Autism can impact a child's fitness skills and physical development, including motor skills and balance. It can also result in too much or too little sensory processing.
Toddler playgroups can help children with autism improve fitness skills through playtime activities. It can also help them learn coping mechanisms for sensory issues.
Early exercise habits will help children with autism maintain their physical fitness. Physical fitness gives many benefits, including increased social skills and physical endurance.
8. Healthy Self-Identity
Self-confidence is often overlooked in child development. But it's a child's core motivator for learning how to reach goals and deal with failures.
Unhealthy self-esteem can also result in increased social dysfunction. A child with too high or low self-esteem will have difficulties in relationships and academic performance.
Children with autism can face struggles with positive self-identity, especially if they face peer rejection and bullying. Toddler playgroups can help your child build a solid self-esteem foundation in a safe setting.
Ready to Find a Playgroup?
The benefits of playgroups for kids with autism are great. But how do you find inclusive playgroups that are safe, fun, and developmentally appropriate?
Integrated playgroups rely on professional knowledge of both autism and child development. Although playtime isn't controlled, it's under the direction of a "play guide" who helps interactions stay positive and focused.
Many children's centers offer integrated playgroups. They should list the knowledge and methodology they use. It should have different options so your child gets the development support they need.
Playgroups should also be transparent about their curriculum and safety measures. The playgroup must be small so your child has appropriate levels of supervision.
Helping Your Child Find Their Full Potential
Inclusive playgroups can help your child develop cognitively, socially, and physically. The skills they learn will translate to long-term achievements.
If you're ready to join the integrated playgroup fun, contact us at Dream Big Children's Centers! We'd love to help you and your child unlock their learning skills and reach success!